Korean movies are hot.
After the success of Squid Game, Netflix is doubling its investment in Korean films and series.
Have you already jumped on the bandwagon?
If you haven't, check out these top 10 Korean movies.
If you are already a fan, pick the first movie you haven't seen yet. I ordered the list by the movies' IMDB scores.
I also share six bonus movies at the end of this article.
Before diving into the movies, let's first highlight two influential Korean directors.
Stop Following Korean Actors. Focus On Movie Directors.
Most people have a favorite actor.
Hordes of people line up to see a glimpse of Brad Pitt or George Clooney.
Movie directors usually don't get the same treatment.
It makes sense.
Actors are in the picture, and movie directors aren't.
It's better to focus on directors, though.
The reason is that movie directors have a particular style. Their films have recurring themes, and if you like one, you'll likely enjoy the others too.
If you're unsure what movie to watch next, find a movie director you like and search for their other works on IMDB. You'll have a high probability of finding something you like.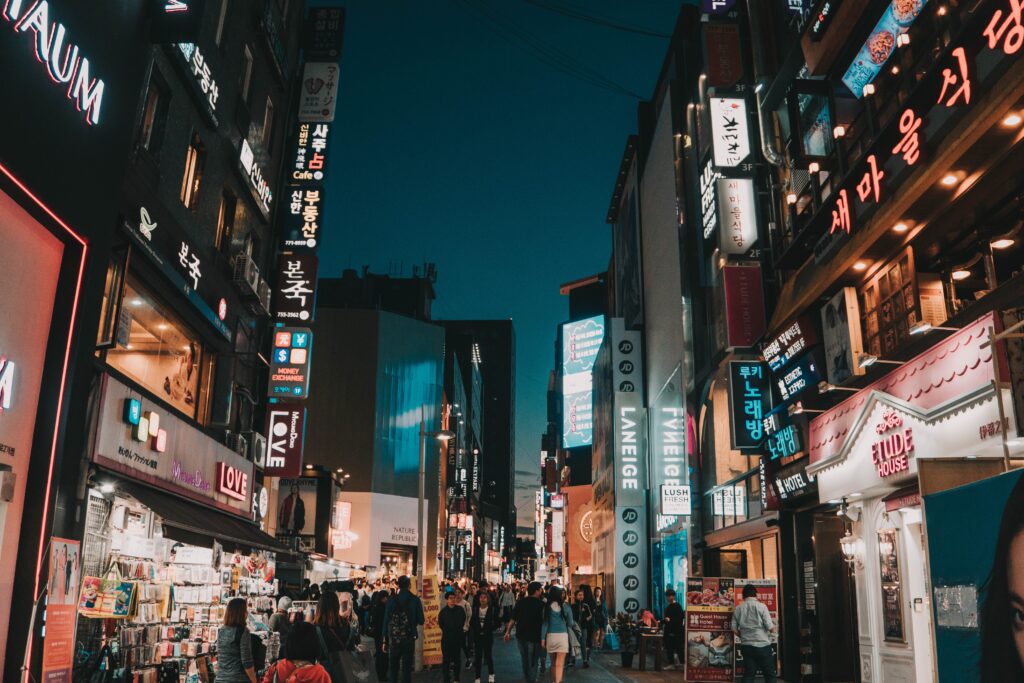 Two Korean Movie Directors You Should Know About
That's why I want to introduce you to two Korean movie directors. An introduction might not even be necessary, as you've probably heard of their work.
These two movie directors are Park Chan Wook and Bong Joon Ho.
You may know Park Chan Wook for the movies Oldboy and The Handmaiden.
Park Chan Wook studied philosophy. Because he was disappointed in the department, he started a film club. The director initially wanted to be a film critic but tried his luck with two movies in 1992 and 1997. They were no success, and he continued earning his living as a movie critic.
His third movie was successful, allowing him to make a more independent 4th one. The rest is history. Park Chan Wook made some of the most iconic Korean films of all time, known for beautiful cinematography, framing, black humor, and often brutal subject matters.
Bong Joon Ho is most famously known for Parasite, a movie that became the highest-grossing film in South Korean history. It was also the first non-English movie ever to win an Oscar.
Bong started with a cult following after his first movie, Barking Dogs Never Bite. He later became popular after films such as Memories of Murder and Mother. His movies emphasize social themes, genre-mixing, black humor, and sudden tone shifts.
1. Parasite – IMDB 8.5
Parasite came out in 2019 and immediately turned into a huge hit. It became so popular that Bong Joon Ho's movie won 4 Oscars (which is highly unusual for an international film).
If you somehow missed it, schedule some time next weekend because you will want to watch this one.
Parasite is about a poor South-Korean family infiltrating a rich one (hence the name Parasite) by gradually introducing more family members as staff. Besides the beautiful setting, the hilarious conversations, and the exciting twists, Parasite is a movie about inequality in South Korea and contains a lot of hidden symbolism.
You can watch Parasite on Amazon Prime and Youtube.
2. Oldboy – IMDB 8.4
Oldboy is a Korean classic from 2003. It's been high on the top IMDB list with an impressive 8.4 since its release.
The protagonist, Oh Dae-Su, often misbehaves. One day, someone kidnaps and imprisons him when he's out drunk. He's not sure why he's here and for how long until he is suddenly released 15 years later. He only gets five days to find out what happened to him and by whom.
Oldboy is a great movie, full of action, humor, and intriguing plots.
You can watch Oldboy on the Asian Movies platform.
3. The Handmaiden – IMDB 8.1
With an 8.1 on IMDB, The Handmaiden is one of the all-time best Korean movies. Wikipedia describes it as an erotic psychological thriller, and I can confirm that it's wonderfully exciting but somewhat weird.
In Japanese-occupied Korea, a criminal decides to seduce a Japanese heiress to steal her inheritance. He hires a female pickpocket to become her maid and support his marriage plan.
The scheme doesn't unfold as planned, and everywhere, betrayal lurks around the corner. The movie has various twists, with the next one even more exciting than the previous.
You can rent the Handmaiden on Youtube and Amazon Prime.
4. Memories of Murder – IMDB 8.1
In the 90s, a serial killer terrorized South Korea. He murdered at least ten girls on rainy evenings, but the police couldn't catch him.
Bong Joon-ho's movie is fictional but based on these killings.
The actual murderer was still unknown when he released the film in 2003.
It took 13 more years for the police to find the serial killer based on a DNA test. At the time, he was already in jail for the rape and murder of his sister-in-law.
Bong's movie is thrilling and, in some ways, comparable to Zodiac, a film about the still unknown American serial killer.
You can find where to watch Memories of Murder on JustWatch.
5. Miracle in Cell No. 7 – IMDB 8.1
His hardened prison mates dislike Yong-gu for his crime, but when he saves the gang leader, they decide to help him.
Yong-gu is a mentally challenged man wrongfully imprisoned for a crime he didn't commit: the killing of a young girl.
Their way of helping is by smuggling his young daughter into his cell so they can spend time together.
The movie is a combination of drama and comedy, based on the real-life story of a man wrongly convicted for the rape and murder of a 9-year-old girl. Despite the gruesome theme, the sweet relationship between father and daughter makes it a fun and heartwarming movie.
It became so popular that the Philippines, Turkey, and Indonesia later made remakes of the original.
You can find a link to Miracle in Cell No 7 on JustWatch.
6. Squid Game (Series) – IMDB 8.0
Horrendous and terrific are not usually words that go together to describe a show, but they do in the case of The Squid Game.
This Netflix series could be described as the Korean Hunger Games, in which a group of heavily indebted people gets invited to compete in a series of children's games. What they don't know, however, is that failure means death. Despite the risks, the participants decide to join due to the lack of another way out.
It's thrilling and gruesome and reveals an underlying social issue around debt and the inability to discuss these topics with friends and family. The Squid Game was one of my favorite shows of 2021, but bloody and, thus, not for everyone.
Squid Game is a Korean Netflix series.
7. Silenced – IMDB 8.0
Kang In-ho is the newly assigned teacher at a school for deaf children. The kids are difficult to teach and avoid him as much as possible. Because Kang doesn't give up, the kids eventually confide in him.
What he finds out shocks him to the core. The school's teachers have been sexually abusing the kids for years. Kang In-ho decides to expose the crimes and fight for the kids.
Silenced is based on actual events and sparked public outrage after publication in 2011. Four million Koreans watched the film, which led to the reopening of the court cases and the passing of changes to the statutes limiting the punishments for sex crimes.
Check if this Korean movie is available on Netflix.
8. A Taxi Driver – IMDB 7.9
A Taxi Driver is yet another movie based on actual life events.
The movie depicts the story of taxi driver Kim Sa-bok, who unintentionally became involved in the Gwangju Uprising in 1980 when a German journalist (Jürgen Hinzpeter) hired him. As he drives the journalist around, he experiences the event firsthand.
During the uprising, armed citizens stood up to the soldiers and police of the South Korean government after university students were fired upon, killed, raped, and beaten by government troops during an anti-government protest. The violence killed an estimated 600 to 2,300 people.
The film was constructed based on the journalist's notes. You'll appreciate this movie if you want to learn more about Korean history.
9. Mother – IMDB 7.8
Mother is another South Korean thriller film directed by Bong Joon-ho.
Her son, Yoon Do-Joon, is mentally disabled and fights anyone who mocks him about it. He also hung out with a tug, despite his mother's disapproval.
One night, as Yoon is out on the streets, he sees a girl who's found dead on her roof the next day. Based on the circumstantial evidence, the polices force the boy to confess.
Although her son is no saint, Yoon's mother doesn't believe that her son killed the girl. She starts investigating herself and soon finds out that she's right.
She must embark on a difficult and dangerous journey to free her son.
You can rent Mother on Amazon Prime.
10. Burning – IMDB 7.5
The Los Angeles Times called Burning a masterpiece of psychological unease, based on a Haruki Murakami story from his book The Elephant Vanishes.
The Korean psychological thriller starts with Lee Jong-su running into a former classmate, Shin Hae-mi. Shin Hae-mi will travel to Africa and asks her long-lost friend to feed her cat when she's gone.
When she returns from Kenya, she appears with a new friend Ben, a rich-looking guy who's secretive about what he does for a living. Ben doesn't take long to confess that he burns down greenhouses as a hobby.
When Shin Hae-mi disappears under strange circumstances, her friend starts to suspect Ben. Does he have something to do with her disappearance?
Find out here.
Do You Want More Korean Movies?
Have you already watched all these Korean movies?
If you're hungry for more, I have six more recommendations for you.
If you're into horror, have a look at Train to Busan (IMDB 7.6), the Wailing (IMDB 7.4), and a Tale of Two Sisters (IMDB 7.1).
Three other great Korean films are the psychological thriller Forgotten (IMDB 7.4), the gangster movie New World (IMDB 7.5), and Peppermint Candy (IMDB 7.6), about a man who committed suicide and why he did it.
Still Hungry for More?
Want more movies straight to your inbox?
Sign up for my newsletter below.
Every two weeks, you will receive book, music, and movie tips from countries around the world!
The picture credits go to Iskander, Yohan Cho, Sava Bobov, and Markus Winkler