If you're looking for a unique and exciting music experience, then you should definitely check out the incredible Ethiopian music scene. From traditional folk songs to modern pop hits, Ethiopia has a diverse mix of genres and artists that will captivate your ears and make you dance.
In this blog, we'll explore the top 10 Ethiopian music artists who'll surely rock your world. So, let's dive in and get to know these incredible musical talents!
A brief Introduction to Ethiopian Music
One of the world's oldest musical traditions, Ethiopian music is steeped in millennia of history and culture. It spans various styles, each with signature beats and riffs, frequently rooted in time-honored musical modes and scales. Listening to Ethiopian music is a great choice if you want to hear something genuinely original and stunning.
From Old Ethiopian Music…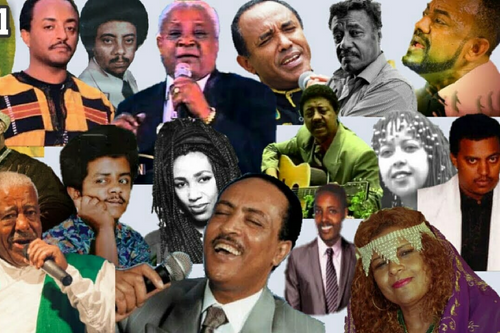 Source: Ethio HD
Traditional Ethiopian music is a multifaceted art form practiced for generations and is essential to Ethiopian identity. It is distinctive because it employs the pentatonic scale and native Ethiopian instruments like the krar and masinko. As a form of expression that helps Ethiopians feel closer to their roots and mark significant life events, the music is frequently accompanied by dance.
Ethiopian music has a long and vital history deeply rooted in the country's culture. The krar and the masinko are standard instruments in this pentatonic-based style. Ethiopian events and festivities would only be complete with this music and its frequent partner, dance. Among the most well-known Ethiopian traditional musicians are Alèmayèhu Eshèté, Tilahun Gessesse, and Mahmoud Ahmed.
Along with traditional music, there is a flourishing jazz scene in Ethiopia and the country's rich traditional music legacy. Ethiopian jazz performers owed a great deal to the work of American jazz greats like Duke Ellington and Miles Davis in the 1950s and 1960s. Traditional Ethiopian melodies and rhythms are regularly blended with Western jazz harmonies and instrumentation in what is commonly known as Ethiopian jazz or Ethio-jazz.
… to the new Ethiopian music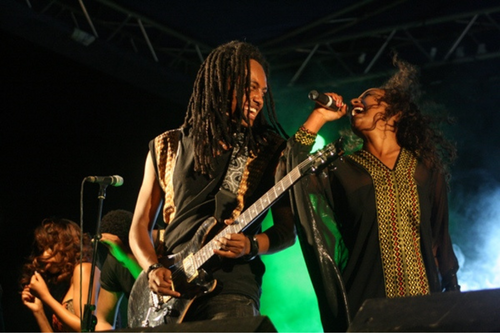 Source: musicinafrica.net
The richness and variety of Ethiopia's cultural past are apparent in the country's music. Consequently, many people appreciate and enjoy the music scene because it combines traditional and modern influences.
Moreover, many contemporary Ethiopian musicians have recently shown a resurgence of interest in the country's rich musical heritage by drawing inspiration from it. Meanwhile, pop music has exploded in popularity throughout Ethiopia. As a result, many musicians are fusing traditional and contemporary influences to create their distinctive sound.
In addition to this, many Ethiopian musicians now travel the world performing and working with musicians from other cultures because of the genre's rising popularity. Jazz, hip-hop, and reggae are just a few of the styles that have been impacted by Ethiopian music. Contemporary Ethiopian musicians include Aster Aweke, Teddy Afro, and Gigi Shibabaw.
Blending traditional Ethiopian music with modern forms and influences is a defining characteristic of current Ethiopian music. This has resulted in a new musical style that serves the country's storied past while connecting with modern listeners. Furthermore, new Ethiopian musicians bring fresh air to the country's music scene by experimenting with various musical forms.
Overall, modern music from Ethiopia is an evolving and inspiring expression of the country's rich cultural legacy and history. It has evolved into a popular and thriving style by fusing classical and contemporary music elements. Therefore, there is plenty for everyone to appreciate in Ethiopia's lively and expanding music industry, from traditional Ethiopian music to current pop.
What does music mean to Ethiopian people?
Many Ethiopians' lives would only be possible with the music that is central to Ethiopian culture. People use it to commemorate significant moments and strengthen ties to their cultural background.
Furthermore, music has been a powerful tool for social and political change in Ethiopia throughout its history, serving as a form of resistance and activism. The high regard for music in Ethiopia indicates the value placed on the arts and creativity in general.
Ethiopians utilize music to connect with their ancestry and commemorate significant life events. Additionally, music has played an essential role in the history of social and political development in Ethiopia as a means of resistance and activism.
Many great musicians perform in clubs and concert halls across Ethiopia, making live music another popular form of entertainment there. Jazz is especially well-liked by Ethiopia's listeners, and the country is rife with jazz venues and events. Most of the time spent listening to and dancing to Ethiopian music is in the company of friends and family.
Ethiopian music is a vibrant and varied art form that inspires and continues to influence performers worldwide. The music culture in Ethiopia is lively and dynamic, with plenty for everyone to enjoy, whether they prefer traditional music or modern pop.
Who is the legendary Ethiopian musician Astatke?
A revered figure in Ethiopian music, Mulatu Astatke is often called "the king of Ethiopian song." He is an important figure in the history of Ethiopian jazz as a player and composer. Astatke, born in the Ethiopian city of Jimma in 1943, came from a musical family and started playing the piano at a young age. He eventually studied music in London and New York, where he got exposure to jazz and Latin music. He began blending these genres into his distinctive sound.
When discussing Ethiopian jazz, Mulatu Astatke is frequently called the "father of Ethio-jazz" because of his prominence in the genre. Some of the most successful movies, including Broken Flowers and The Black Power Mixtape, have included his music.
Many recognize Astatke as the inventor of Ethio-jazz. This style fuses traditional Ethiopian melodies and rhythms with Western jazz harmonies and instrumentation. The vibraphone, a percussion instrument with a warm and powerful tone, is a signature feature of his music. Because of his forward-thinking approach to music, Astatke has worked with musicians worldwide and gained widespread acclaim.
Now that you better understand Ethiopian music, it's time to discover some of the top Ethiopian music artists. These artists lead the way in Ethiopian music and create some of the most exciting and engaging music.
Here is a list of 10 incredible Ethiopian music artists guaranteed to make you feel good.
1. Teddy Afro
Tewodros Kassahun Girmamo, who is widely known by his stage name Teddy Afro is an iconic Ethiopian singer-songwriter of all time. He is known for his powerful and passionate lyrics, which often contain political and social messages with a touch on themes of love, loss, and hope.
His music combines traditional Ethiopian music, pop, and reggae. He is popular for his unique vocal style and energetic performances. Although he has released several popular hits throughout his career, his works "Abugida" and "Yasteseryal" are his masterpiece albums.
2. Aster Aweke
Aster Aweke is a legendary Ethiopian singer-songwriter dubbed the "Queen of Soul." She is known for her smooth and soulful vocals, which often combine traditional Ethiopian music and jazz elements.
Her music is often described as powerful and uplifting. She has released many popular hits throughout her career, with her albums Hagere and Fikir being the must-listen ones.
3. Mulatu Astatke
Undoubtedly, Mulatu Astatke is an iconic Ethiopian musician who has been making music for over four decades. He is known for his unique blend of traditional Ethiopian music and modern jazz, thus dubbed "Father of Ethio-Jazz."
His style of music is a blend of traditional Ethiopian music, jazz, and funk. It often features and is accompanied by traditional and modern instruments, such as trumpets, electric guitars, and saxophones. Markedly, Mulatu released many influential hits, but his debut and showpiece work is "Mulatu of Ethiopia," (1972). Just by listening to this album, you'll definitely get an exhilarating experience of your life!
4. Mahmoud Ahmed
Mahmoud Ahmed is an Ethiopian singer who is considered by many to be one of the most influential singers in Ethiopia. His multi-octave voice and unique style blending traditional Ethiopian Amharic music with the sixties and seventies soul, funk, and jazz made him a legend in his homeland since the 1960s. He rose to international acclaim by the '80s.
One of his most significant and highly recommended albums is "Ere Mela Mela." His music has been described as timeless and exhilarating, and his legacy continues to live on in Ethiopian music.
5. Gigi
Ejigayehu Shibabaw (Gigi) is an Ethiopian singer and multi-instrumentalist. She has brought the music of Ethiopia to broader recognition and received numerous accolades for her work.
Her music blends traditional Ethiopian music with jazz, blues, and soul, creating a unique sound that has captivated audiences worldwide. Her lyrical content is often inspired by her country's rich culture and her own experiences. Gigi's music is famous as "a meditative experience," and her 2001 album called "Gigi (Guramayle)" has made her one of the most influential Ethiopian singers of all time.
6. Eyob Mekonnen
Eyob Mekonnen – an Ethiopian reggae artist whose songs were notable for their themes of love, understanding, and respect. His musical style was unique, blending popular Amharic music with reggae, Oromo, and Somali music. It was performed primarily in a reggae style.
His lyrical content was thoughtful and poetic and included themes of self-awareness, love, faith, and hope. His legacy continues to live on in Ethiopian music. During his career, he produced only two studio albums, "Endekal" and "Tew Yalshignin," both timeless and guaranteed to soothe your soul.
7. Tilahun Gessesse
Tilahun Gessesse – an Ethiopian singer regarded as one of the most elite Ethiopian artists of all time who has been creating music for over four decades. Widely noted by his tenor voice, he was considered the king of Ethiopian music and nicknamed 'The Voice".
Tilahun broke into the Ethiopian music scene or the golden era, and has recorded over 400 songs. His musical style combined popular Amharic music genres and Oromo music. His most legendary albums are the "Tilahun Gessesse Collections" – the eternal legacy of Ethiopian music, and his legacy continues to live on in Ethiopian music.
8. Kiros Alemayehu
Kiros Alemayehu – a talented Ethiopian singer-songwriter known for his unique vocal style and breathtaking melodies. His work is traditional Ethiopian music, as in the Tigrinya language.
He also got attention for his unique "krar" instrument skills and his socially conscious lyrics, which often touch on themes of justice and unity. Kiros has released several popular hits throughout his career, including "Sebdeyeley," "Zeyettsgib Fikrie," and "Megalewa."
9. Alemayehu Eshete
Alemayehu Eshete was an Ethiopian singer who had performed since the 1960s, primarily in Amharic. He has a well-known nickname: "Elvis of Ethiopia", as he mixes Ethiopian cultural music with jazz and adds a bit of soul and funk.
He gained international fame with the release of the "Buda Musique's Ethiopiques" series of compilations on compact discs, including "Ethiopiques Volume 9", devoted correspondingly to recordings of his earlier music which are nothing but breathtaking pieces of art.
10. Tsehay Yohannes
Tsehay Yohannes is a prominent Ethiopian singer, songwriter, and musical figure. He began performing in a professional band at 14 and put out his first record, "Tey Munit," in 1974. He later played with the Roha Band and Dadimos Band.
Tsehay, born in Gondar but raised in Tigrai, sang in both Tigrinya and Amharic, promoting cultural harmony in his lyrics. He released a vast music catalog and is known for blending traditional Ethiopian melodies with modern rhythms. His distinctive style and powerful vocal ability have made him a beloved figure in this country's music. His greatest and most recommended album is "Yalanchima," released in 1996.
Ethiopia: Land Of Fascinating Music 
Ethiopian music reflects the country's rich cultural heritage and history. This music genre has something everyone can enjoy, from traditional to modern pop. Its unique blend of traditional Ethiopian melodies and rhythms with Western influences has created a vibrant and evolving music scene that is beloved by many.
The country has produced many talented musicians, including the legendary Mulatu Astatke, who continue to inspire and influence musicians worldwide. Whether you're a jazz, pop, or traditional music fan, there is something for everyone to discover in Ethiopia's exciting and dynamic music scene.
As you can see, the Ethiopian music scene is full of exciting and talented artists. From Teddy Afro to Mulatu Astatke, these 10 Ethiopian music artists will rock your world. Hence, if you're looking for something new and exciting to listen to, check out these incredible musical talents!
The Ethiopian Playlist
The Newsletter for Music "Junkies"
Did you enjoy this best of Ethiopian music and want to read more?
Check out these posts:
You can also sign up for the newsletter below and get it straight in your inbox every two weeks!